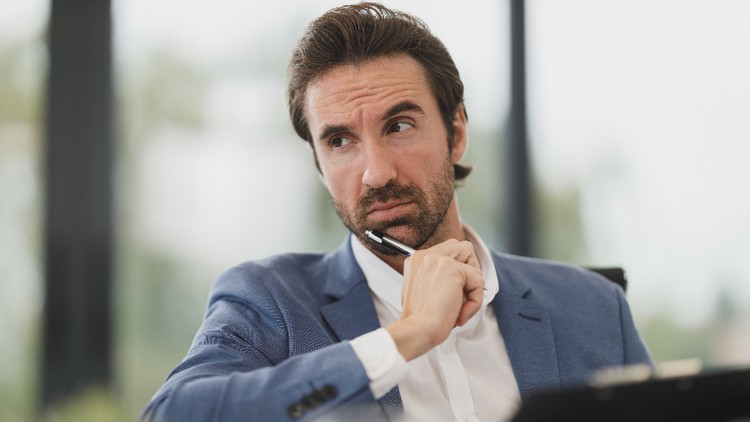 Make the wisest and most profitable decisions to seize competitive advantage via cutting-edge, science-based strategies
What you will learn
☑ Seize competitive advantage for yourself and your team through making the best possible decisions
☑ Make even the most difficult decisions with confidence
☑ Free yourself and those on your team of the constant ruminations and doubts about whether you made the right call
☑ Minimize the numerous gray zones and mental blindspots that plague typical decision making
☑ Learn about the dangerous judgment errors – what scientists call cognitive biases – that lead to disastrous decisions
☑ Identify your own and your team's most dangerous judgment errors
☑ Determine how to overcome these cognitive biases using science-based strategies drawn from behavioral economics and cognitive neuroscience
☑ Discover pragmatic techniques to make the best quick decisions, best major decisions, and best strategic decisions
☑ Develop a plan to help yourself and others on your team integrate these techniques into their decision making
Description
The quality of your decision making is your central competitive advantage in our increasingly-disrupted future. The decisions you make every day are fundamental to determining your success. This course will help you be confident about make the right calls on even the toughest decisions.
Why do we have trouble with making the best decisions? Recent research in cognitive neuroscience and behavioral economics shows that our typical approach to decision making suffers from systematic dangerous judgment errors called cognitive biases. These mental blindspots lead to disastrous consequences in our professional and personal lives. Fortunately, recent scholarship has revealed effective yet counterintuitive strategies to enable you and others on your team to defeat these cognitive biases and make the wisest and most profitable decisions. By learning about and addressing these dangerous judgment errors, and adopting decision-making strategies drawing on cutting-edge science and real-world best practice, you will dramatically improve the quality of your decision making.
The ideal students for this course are smart, ambitious, and humble. You need to be smart to recognize the important of improving your decision making: most people ignore this area despite its critical role for everything we do. You need to be humble to recognize that you may be making decisions badly in some systematic ways, which is what cognitive biases are about. And you need to be ambitious to want to improve the core skill of any leader: there's a reason that leaders are called "decision makers."
After taking this course, you will feel truly confident about your decisions. The course will help you:
· Minimize the numerous gray zones that plague typical decision making
· Open your eyes to the mental blindspots that lead to dangerous judgment errors
· Free yourself and those on your team of the constant ruminations and doubts about whether you made the right call
Now, no one can guarantee you'll always make the right decision, because you won't always have the information and resources available to make the optimal choices. But what I can guarantee is that if you integrate the skills and knowledge from this course into your everyday activities, you will absolutely make the best decisions possible, given your information and resources. Moreover, you'll gain the ability to help others on your team make the wisest and most profitable decisions.
Sounds too good to be true? These methods were successfully used by Aflac, Applied Materials, Entergy, Honda, Reckitt, Royal Canadian Mounted Police, Wells Fargo, World Wildlife Fund, and Xerox to improve the decision-making skills of their teams. Over the last two decades, I trained, consulted, and coached the staff at these and other Fortune 500 companies, large nonprofits, and quickly-growing startups on decision making, future-proofing, and cognitive bias risk management, most recently as the CEO of the boutique future-proofing consultancy Disaster Avoidance Experts.
That background speaks to my real-world, pragmatic expertise. What about the science – behavioral economics and cognitive neuroscience – which provides the basis of this methodology? That part of my expertise stems from my research background as a behavioral scientist studying decision making and cognitive bias risk management for over 15 years in academia, including 7 years as a professor at the Ohio State University. I published dozens of peer-reviewed articles in academic journals such as Behavior and Social Issues and Journal of Social and Political Psychology.
This combination of business and science led to these decision-making methods gaining global recognition. My thought leadership was featured in over 550 articles I published and 450 interviews I gave for prominent venues, including Fortune, USA Today, CNBC, Fast Company, Entrepreneur, CBS News, Business Insider, Government Executive, The Chronicle of Philanthropy, Inc. Magazine, and Time.
These techniques are also featured in my best-selling books, such as Never Go With Your Gut: How Pioneering Leaders Make the Best Decisions and Avoid Business Disasters (Career Press, 2019) and The Blindspots Between Us: How to Overcome Unconscious Cognitive Bias and Build Better Relationships (New Harbinger, 2020). My thought leadership was translated into Chinese, German, Russian, Korean, Polish, and other languages.
That's what you can expect in this course: decision-making methods used at the biggest companies, thoroughly informed by research, and featured in top media venues. In this course, you can expect to uncover your own and your team's most challenging cognitive biases and improve dramatically your decision-making abilities. To do so, you will go through 8 video-based modules with additional in-depth articles and other course materials, in the following order:
1) Take the "Assessment on Dangerous Judgment Errors in the Workplace," to help you learn about which cognitive biases are most problematic for you and your team
2) Learn about the structure of our minds and why typical decision-making advice, such as "go with your gut," so often results in disastrous decisions
3) Learn a technique to make quick and effective decisions on any choices where you or your team just need a "good enough" answer
4) Learn a technique for how to make major decisions where you or your team wants the best answer possible, rather than settling for "good enough"
5) Learn a technique for making complex decisions with a number of different options that each have certain strengths and weaknesses
6) Learn a technique to avoid failures and maximize success when implementing significant decisions and/or managing projects
7) Learn a technique to future-proof your strategic planning for yourself or your team to make sure you're making the right strategic decisions
8) Tying these all together, the last module will help you develop the mental habits necessary to notice and address cognitive biases and recognize when and how you should deploy all the techniques you've learned earlier
Once you register, you'll get access to the core textbook course materials packet. The packet consists of two of my best-selling books, an assessment on cognitive biases, and manuals and decision aids for decision-making strategies, all of which sell for over $50 combined.
Your registration is risk-free: you'll have 30 days to assess the course and get your money back if you think it's not the right decision. See the Udemy terms and conditions for more.
I look forward to welcoming you into the world of evidence-based, science-driven decision making tested in the real world of dozens of Fortune 500 companies and hundreds of middle-market companies, nonprofits, and startups. To help you and your team seize competitive advantage, register now!
English
Language
Content
Course Textbook Materials (click on link in the article)
Get course textbook materials (click on link in the article)
Assessment on Dangerous Judgment Errors in the Workplace
Video: "Assessment on Dangerous Judgment Errors in the Workplace"
In-Depth Article: "Assessment on Dangerous Judgment Errors in the Workplace"
Wise Decision Maker Manifesto
Video: "Wise Decision Maker Manifesto"
In-Depth Article: "Wise Decision Maker Manifesto"
How to Make the Best Quick Decisions
Video: "How to Make the Best Quick Decisions"
In-Depth Article: "How to Make the Best Quick Decisions"
Making the Best Major Decisions
Video: "Making the Best Major Decisions"
In-Depth Article: "Making the Best Major Decisions"