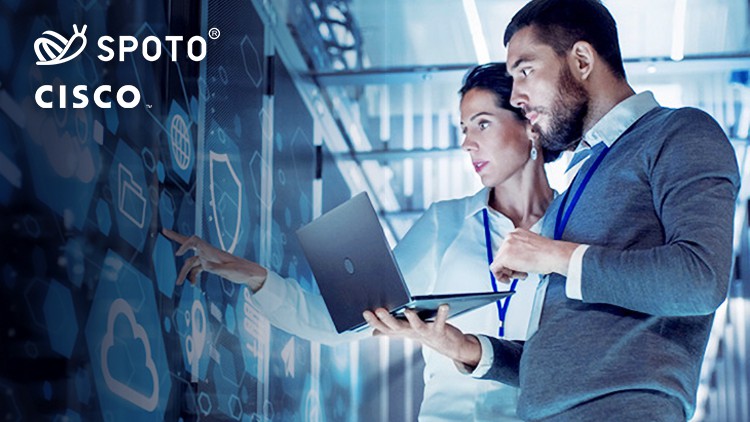 5xCCIE 3391*| CCIE Certified Tutor | Understanding Cisco Software-Defined Access
Description
SPOTO'w whole SD-Access course teaches you how to successfully deploy the Cisco® Software-Defined Access (SD-Access) solution in your enterprise network.
The advanced-level, instructor-led, lab-based, hands-on course covers SD-Access fundamentals, provisioning, policies, wireless integration, border operations, and migration strategies.
Students will be able to deploy a Cisco SD-WAN over any transport (MPLS, Broadband, LTE, VSAT etc.) and provide management, policy control and application visibility across the enterprise.
SPOTO's training with corresponding contents for the new knowledge points of CCIE Enterprise Infrastructure Lab, after training, you will have a solid foundation to make preparation for CCIE EI Lab exam and advance your career with latest Cisco technology skills.
Objectives
Upon completion of the whole sd-accesscourse, you should be able to:
Describe Cisco SD-Access and how it relates to Cisco DNA
Orchestrate a Cisco SD-Access solution using the Cisco DNA Center™ orchestration platform
Use the Network Data Platform to demonstrate the assurance and analytics capabilities of SD-Access
Prerequisites
Before taking this course:
You should have an understanding of network routing and switching principles equivalent to the Cisco CCNA® certification level.
In this free trail course, you can explore Cisco SD-Access and Cisco SDN Solution.
Outline
SD Access Overview

Exploring Cisco SD-Access and Cisco SDN Solution
Cisco® Software-Defined Access (SD-Access) is a solution within Cisco Digital Network Architecture (Cisco DNA), which is built on intent-based networking principles. Cisco SD-Access provides visibility-based, automated end-to-end segmentation to separate user, device, and application traffic without redesigning the underlying physical network. Cisco SD-Access automates user-access policy so organizations can make sure the right policies are established for any user or device with any application across the network. This is accomplished by applying unified access policies across LAN and WLAN, which creates a consistent user experience anywhere without compromising on security.
English
Language
Content
Introduction
Read Before You Take
CCIE Introduction
Introduce SDN and Cisco SDN Solution
SD-Access Overview
Course Syllabus
BONUS LECTURE