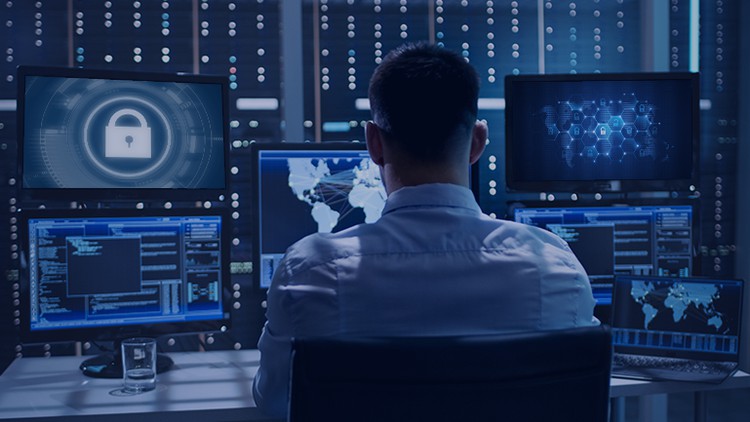 Monitoring Network Devices | Creating PRTG Map | Configuring Remote Probe & PRTG Cluster | Notifications and Reporting
Description
The PRTG Tutorial includes:
6/5 hours of practical and condensed knowledge
Immediate access to the entire collection of videos and files
Q&A support
Downloadable installation Media
Valuable links and resources
FAQ:
Q: Can I download PRTG Network Monitor tutorial files?
Yes. We have uploaded all the installation and ISO files to practice the course without wasting your time searching these installation files on the web
Q: Can I watch the PRTG Network Monitor tutorial course on Mobile?
Absolutely, Udemy is mobile-friendly and compatible with IOS and Android devices.
Q: How do you support me?
You would have direct support using:
Q&A section
LinkedIn chat
Q: Skill Requirements for PRTG Training course?
Basic knowledge of Ethernet TCP/IP

Basics of Network Monitoring
Q: What you'll learn in this PRTG Training Course?
SNMP Concepts

How to Configure PRTG LAB

Describing PRTG Sensors

Monitoring Network Devices

Creating PRTG Map

Configuring Remote Probe & PRTG Cluster

Configuring PRTG Users and Groups

PRTG Notifications and Reporting

PRTG Application Optimization
Q: Who this PRTG training course is for:
Anyone planning to monitor servers like ESXi, Hyper-v

Anyone planning to monitor Network devices Using SNMP Protocol

Engineer or Administrators that want to learn more about Monitoring
Q: What's your background?
I've spent the last 18 years building my career as a Network Engineer.
and I am a multivendor system engineer who is familiar with virtualization, cisco, windows server, monitoring, and security.
I want to help you master Network Engineering so you can get more experience and find a real job
Q: Can I see some of the PRTG Network Monitor tutorial course for free?
A few videos of the course are free to get a feel of the course and my teaching style, check out videos with the "preview" label they are free to access
PS: Check the Free Preview videos to know more about the course and to be sure you can get accustomed to my accent
This is PRTG
Monitor all the systems, devices, traffic, and applications in your IT infrastructure.
Everything is included with PRTG; there is no need for additional plugins or downloads.
PRTG is a powerful and easy-to-use solution, which is suitable for businesses of all sizes.
PRTG Key Features
Integrated technologies
PRTG monitors your entire IT infrastructure.
All important technologies are supported:
• SNMP: ready-to-use and custom options
• WMI and Windows Performance Counters
• SSH: for Linux/Unix and macOS systems
• Traffic analysis using flow protocols or packet sniffing
• HTTP requests
• REST APIs returning XML or JSON
• Ping, SQL, and many more
Maps and Dashboards
Visualize your network using real-time maps with live status information.
Create dashboards with the PRTG map designer, and integrate all your network components using more than 300 different map objects such as device and status icons, traffic charts, top lists, and more.
Individualize your map using custom HTML. Once you're done, share your map as a URL that is accessible either publicly or only internally on your LAN.
Flexible alerting
PRTG alerts you when it discovers problems or unusual metrics
PRTG comes with many built-in mechanisms for notifications, such as email, push, or HTTP requests. With our free apps for Android and iOS, you can get push notifications delivered directly to your phone.
Adapt the notification system to suit your needs and schedule alerts (such as 'no low priority alerts at night'), or avoid alarm floods by using dependencies.
You can even use our PRTG API to write your own notifications.
keywords:
PRTG Network Monitor tutorial
How to configure PRTG network Monitor step by step
English
Language

Content
Introduction
Why We Need Network Monitoring
SNMP Concepts
Overview Of SNMP
SNMP Versions
NMS Basics
OIDs And MIBs
SNMP On The Wire
PRTG LAB (optional)
Intro to this Module
PRTG LAB Diagram
Installing ESXi Hypervisor
install virtual machine
install Active Directory
install Mikrotik Router
install Cisco IOSv Switch
install Firewall
Create virtual machine template for VMware Workstation
install Monitoring Server OS
PRTG installation
PRTG Function
PRTG System Requirements
installing Virtual Machine on hypervisor
installing PRTG
PRTG Licensing
PRTG Sensors
What Is a Sensor
Device Tree Overview
Sensor States
Sensors in details
PRTG Version Numbers and Release Channels
Monitoring Network Devices
Monitor Windows Server Using WMI
Monitor Windows Server Using SNMP
Monitor Cisco Devices
Monitor VMware ESXi
Monitor VMware vCenter
Monitor Firewall
Monitor Mikrotik
HP Storage
Qnap NAS Storage
PRTG Map
PRTG Map Part 1
PRTG Map Part 2
Remote Probe
Installing Remote Probe Part 1
Installing Remote Probe Part 2
PRTG Cluster
PRTG Cluster Part 1
PRTG Cluster Part 2
PRTG Administration and Desktop Client tool
PRTG Desktop Client
PRTG Administration tool
PRTG Users and Groups
Users and Groups
PRTG Active Directory Users
PRTG Notifications and Reporting
Notification
Notification and Triggers
Reporting
Application Optimization
Changing Storage Drive or Directory
How Does PRTG Scale
Scaling UP PRTG For Large Environments
PRTG NetFlow
What is Netflow
Cisco Router Bandwidth Monitoring with NetFlow and Packet Sniffing