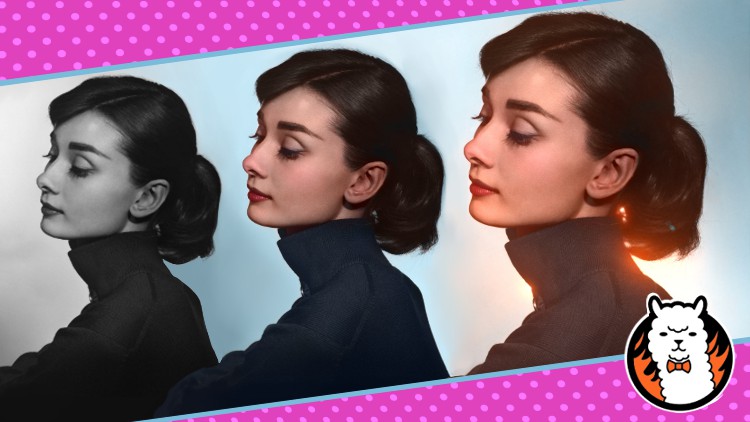 Learn how to professionally add realistic colors to any black & white photo in less than 1 hour.
What you will learn
☑ How to turn black & white images into beautiful colored photos
☑ Quick & simple techniques for professional photo colorization
Description
Want to give life to your old black & white photographs?
Then it's time for you to learn Photo Colorization!
In the span of one hour, you will learn a quick & simple method of coloring black & white images. Best of all, you will be using a free tool so you don't have to make any investment (other than your time of course). You just need to focus your time in quickly learning on how colorize old photos.
My name is Alfred, a professional comic book artist. And my artworks have been featured by DC comics,Dark Wave Comics, Artix, Adventure Quest World, Long Beach Comicon, LA Comicon.
At the end of this course you will be able to learn how to digitally restore and colorize black and white portrait pictures in no time. This course if perfect for beginners or hobbyists that would want to learn a new skill. I will also be providing you with resources that will be your cheat sheet in choosing the right color palette for skin tones. It is recommended that your old photo should somehow be high definition so that you may apply the techniques that we will be teaching you in this course.
So get the course now and let's make your photos alive through color restoration!
English
Language
Content
Course Overview
What this course is all about
Download a Free Tool called FireAlpaca
Resources and Cheatsheets
Fundamentals of Skin Toning
Colorizing Black and White Photo of Elvis Presley Part 1
Colorizing Black and White Photo of Elvis Presley Part 2
Playing with Glow and Highlights
Colorizing Black and White Photo of Marilyn Monroe Part 1
Colorizing Black and White Photo of Marilyn Monroe Part 2
Proper Application of Lip Coloring and Dynamic Lighting
Colorizing Black and White Photo of Audrey Hepburn Part 1
Colorizing Black and White Photo of Audrey Hepburn Part 2
Bonus Section
Bonus Lecture