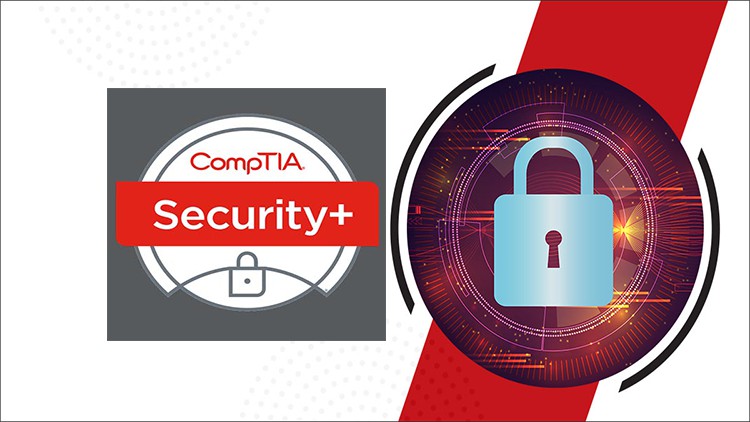 best practice Tests for CompTIA Security+ Certification 2021
Description
CompTIA Security+ is a global certification that validates the baseline skills you need to perform core security functions and pursue an IT security career.
CompTIA Security+ is the first security certification IT professionals should earn. It establishes the core knowledge required of any cybersecurity role and provides a springboard to intermediate-level cybersecurity jobs. Successful candidates will have the following skills:
•Detect various types of compromise and understand penetration testing and vulnerability scanning concepts
•Install, configure, and deploy network components while assessing and troubleshooting issues to support organizational security
•Implement secure network architecture concepts and systems design
•Install and configure identity and access services, as well as management controls
•Implement and summarize risk management best practices and the business impact
•Install and configure wireless security settings and implement public key infrastructure
The CompTIA Security+ exam focuses on today's best practices for risk management and risk mitigation, including more emphasis on the practical and hands-on ability to both identify and address security threats, attacks and vulnerabilities.
Before probing into the popularity of the CompTIA Security+ certification among security professionals, it is essential to perceive what cybersecurity is all about. The first explanation is that it is the practice of protecting the programs, network, and systems from several digital attacks. These attacks are objected at destroying, accessing, or ever-changing sensitive information, interrupting normal processes of business or cheating users. Cybersecurity has persisted a severe challenge for many businesses particularly because of the growth of online business transaction.
However, simply saying that you are a professional in cybersecurity cannot earn you a job. You have to confirm your skills and knowledge. The best approach to do this is to have a certification to prove your dedication. CompTIA Security+ is one of the top certifications you can obtain to certify your expertise and skills in the field of cybersecurity. Therefore, it is not surprising to see that this certification has become very prevalent among security professionals. In this article, we look over the benefits of CompTIA Security+ certification for security professionals in the field of Information Technology.
Benefits of CompTIA Security+ Certification for Security Professionals
Among all security certifications, CompTIA Security+ stands out as a well-respected and globally accepted certification in the industry. Many professionals starting in the field of security are presently pursuing this certification because of many benefits. If you consider getting this CompTIA certification, the benefits listed below will help you make the right decision.
1. Vendor-Neutral Certification
The certification is vendor-neutral, which indicates that you do not have to center on technology and security of a precise vendor. Thus, you can incorporate the common components of cybersecurity. The extensive skills and knowledge accumulated while achieving the certification make security professionals and network administrators become very much in demand in the IT marketplace. This imparts you the skill to prospect several opportunities in the field.
2. Prerequisites and Required Experience
Since it is an entry-level certification, it is not expected to have much experience. This is one of the main benefits of the certification why many people entering the security industry choose to obtain CompTIA Security+ certification to improve their career potentials considerably. Unlike other cybersecurity certifications, this one doesn't have any requirements. It is only suggested that the professionals appearing for the certification exam should have at least two years of working experience in security and networking fields to raise their possibilities of passing the exam and being hired in time.
3. Globally Accepted Certification
The CompTIA Security+ certification is globally acknowledged to be one of the fundamental security certifications in the field of cybersecurity. Presented by CompTIA (Computing Technology Industry Association), the Security+ certification is also approved by ANSI and is created to demonstrate the understanding of an individual to employ the knowledge, skills, and features required to be compliant with ISO 17024 standard.
4. High Career Opportunity
The professionals in the field of cybersecurity are desired by organizations in the private and public areas. The CompTIA Security+ certification provides you an advantage to handle security and network administration responsibilities. With this certification, you can take up a broad range of jobs with various services, such as Compliance and Operational Security, Cryptography, Threats and Vulnerabilities, Data and Host Security, Access Control and Identity Management, and Application.
5. Higher Pay Scale
The professionals with the Security+ certification have greater opportunities of receiving higher salaries than their non-certified co-workers. With this certification to your resume, you can expect to receive an average salary of between $42,130 and $95,830 as a network engineer. It is necessary to mention that there are other factors that determine how much you earn, and these factors involve your level of experience and accreditation. Within a few years, the professional with the CompTIA Security+ certification can earn about $66,890 per year.
6. Opportunity to Take up Government Work
If you aspire to get a cybersecurity or networking job in any government agency, obtaining the CompTIA Security+ certification is an ideal starting point for you. The certification satisfies the DoD 8570 standard. It is perceived as a compliance standard that is employed for citing many prerequisites required for government employees and contractors at various levels of work in the IT area. The certification meets the DoD 8570 compliance standards that are required for both Technical Level Two and Management Level One positions.
7. Opportunity to Learn and Develop
Before you can achieve the certification, you will be expected to study the exam objectives and contents. After significant preparation, you have to clear the exam. In the course of preparing for the exam, you will learn many things about cybersecurity. Moreover, you will acquire skills and knowledge that will benefit you become a greater security professional. This is why hiring managers always look after for the professionals with this CompTIA certification. The certification is evidence of your expertise and skills in the job field.
8. Opportunity to Work Anywhere in the World
One notable benefit of achieving the CompTIA Security+ certification is that it is universally recognized, trusted, and accepted all over the globe. Wherever you want to work, this certification can open the door for you. If you aspire to work in the USA, Security+ will make it possible for you. For example, it is recognized by the United States Department of Defence and can work as an icebreaker for any government agency job. If you wish to work as a network cybersecurity professional, this Security+ certification is essential for you.
The CompTIA Security+ certification is one of the certifications in Information Technology that gives you the opportunity for constant learning and advancement of your knowledge and abilities in the cybersecurity field. When you earn the Security+ certification, you are expected to renew it every three years to keep your certification. This method of re-certification, which befalls with various renewal processes, offers you a continuous opportunity to improve and advance your knowledge base and professional skill level.
Summary
The CompTIA Security+ certification is your way to a career in cybersecurity. If you are just beginning in the industry, earning this certification is indeed a good idea. With all the points that have been brought out above, it is not surprising to see that the certification is very prevalent among security professionals in the IT field. Various benefits and opportunities come with pursuing the certification. Of course, before you obtain your certification, you will be expected to go through the process of writing the exam. Although the exam requires hard work and intense study, the reward is deserving every investment you make to earn it.
English
Language