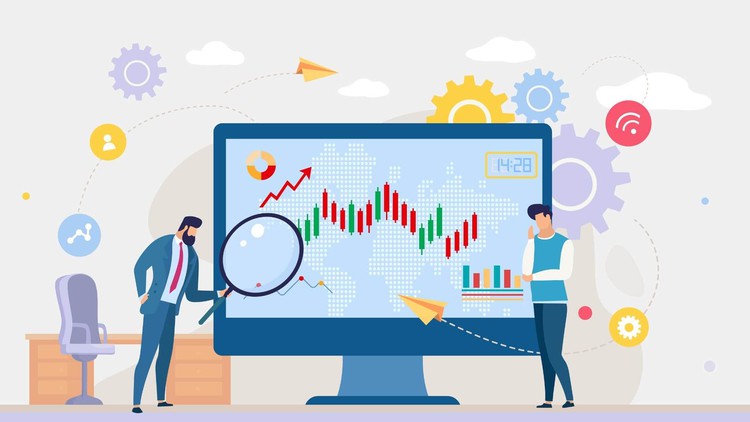 Complete Stock Trading Course, Technical Analysis And Trading Strategies.
What you will learn
☑ Long Term and Short Term Investing, Swing Trading
☑ Learn Step by Step Approach of How To Trade In Intraday
☑ Profitable Day Trading Strategies
☑ Technical Analysis and Candlestick Pattern
☑ Using Technical Indicators to Find Perfect Entry and Exit
☑ Support & Resistance, Trendlines
☑ Selecting Right Stocks To Trade
☑ Learn The Art of Minimising Risk and Maximising Return
☑ Formulate your own Trading Plan to help you trade with confidence.
☑ Understand the philosophy behind different trades.
☑ Interpret the use of technical analysis, charts and indicators under different circumstances.
Description
In this course, you will learn how to analyse Stocks using Technical analysis. We start by going through the Technical Analysis, then the candlestick patterns, support & resistance, trendlines, stock selection and lastly the trading strategies. Also, Through out the course I will teach you the definitions and what trends to look out for. Stock picking is an art and science. This course will also provide you knowledge of tools and techniques to impart stock analytical skills with a focus on leveraging the vast amount of available information on the internet to improve one's stock pickings. In Addition, we will perform some calculations and cover some important terminologies. These examples will include a side by since comparison of growth companies and blue-chip companies from the same sector. This will allow you to determine which company stock you should select for intraday trading. The skills learned in this course will help you to do technical analysis of a company and if it is a good for intraday trading or not.
Who this course is for:
Investors interested interested in Technical analysis
Traders interested interested in Technical analysis
Investors curious about Technical analysis
Investors curious about short term trading ind intraday trading
Investors curious about stock selection for short term and long term
Investors interested in swing trading
Beginner investors and traders
People interested in finding out more about technical concepts of the stock market
Investors thinking of analysis and strategies necessary to identify tradable stocks
Traders looking for new tricks and ideas to improve their returns
Traders looking for making good money in intraday trading
Anyone motivated to learn a new skill and use it for their benefit
English
Language
Content
Stock Market
Stock Market
Introduction
Introduction
Fundamental Analysis
Fundamental Analysis