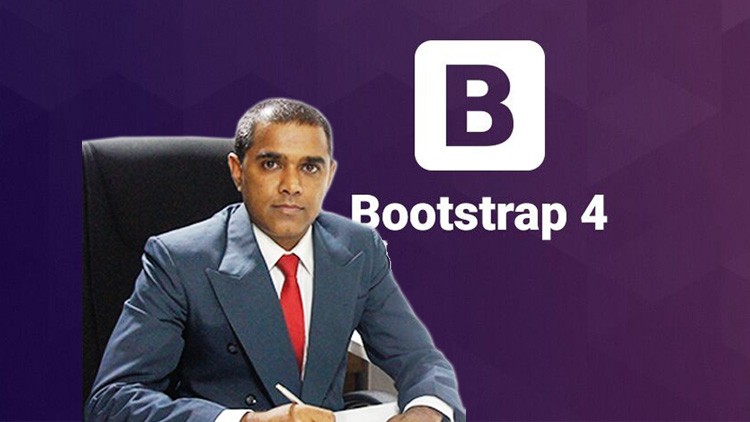 Become a Web designers with Bootstrap Pro.
What you will learn
☑ How to create responsive web site with Bootstrap
☑ How to download and setup Bootstrap files
☑ Work with Bootstrap Carousel
☑ Bootstrap Colleps and Media
☑ Work with Tables and Forms
Description
In this course you will learn from scratch, how to become a Pro in Responsive Web designer with Bootstrap. We start with basic stuff like downloading bootstrap and setup and configuring bootstrap, grid system (from the basic).
Bootstrap has anything and everything you need in order to design and develop your website really quickly without the need for styling or cording. Everything is pre-defined (bootstrap libraries).
What we will cover in this course :-
Though the course we will discuss all the amazing features of Bootstrap such as Navbar (Navigation bar), Carousel (Animated sliders), Jumbotron (Highlighted page header sections), Collapse / Media, Table/ Forms and many more.
Bootstrap for beginner's course content consists only 10 sessions, and this course will help you to create a powerful and perfect bootstrap responsive web site for your business or personal. You will ideally have a basic knowledge of HTML and CSS.
Further into the course we will start to combine all the amazing features in to one web site. That is where the power of Bootstrap will be unleashed! We also have a section with projects implementation with Bootstrap templates. We provide hands-on experience to ensure students effectively develop Bootstrap web pages. And the same time all the source files are included in the course.
English
Language
Content
Introduction
Introduction about the Bootstrap Course
Introduction to Bootstrap
Introduction to Bootstrap
Installing Bootstrap
Installing Bootstrap
Working with grids
Working with grids
Working with Navbar
Working with Navbar
Create Carousel
Create Carousel for image sliders
Working with Jumbo-tron
Working with Jumbo-tron
Colleps, Media
Collapse, Media
Working with Table and Forms
Working with Table and Forms
Working with Bootstrap Templates
Working with Bootstrap Templates